Samuel Blaser (Posaune)
Marc Ducret (Gitarre)
Peter Bruun (Schlagzeug)
Samuel Blaser ist ein Shooting-Star unter den Posaunisten. Der in der Schweiz geborene und jetzt zwischen New York und Berlin pendelnde Musiker hat alles verinnerlicht, was die Jazzgeschichte hervorgebracht hat, und er überzeugt durch eine Musikalität zwischen klassischer Tongebung und Improvisation.
Seine geschmeidig fließenden Linien kontrastieren manchmal scharf mit den eher harschen Statements des Gitarristen. So erscheint seine Musik in ihrer Vielseitigkeit als Panoptikum aktueller Improvisationstechniken, und mit immer neuen Ansätzen baut er neue Spannung auf.
Workshop / Masterclass
Am 09.05.2017 spielt das Samuel Blaser Trio ein Konzert im Rahmen der Jazz+ Reihe in der Seidlvilla. Zwei Tage davor gibt die Band einen Workshop / Masterclass in der Music Academy München City Süd.
Wann: 07. 05.2017
Wo: Music Academy München City Süd, Tumblingerstraße 21, 80337 München
Uhrzeit: 14 – 18 Uhr
Kosten: 90 Euro, bzw. 75 Euro für [MA] Schüler und Musikstudenten. Der Eintritt zum Jazz+ Konzert am 09.05.2017 ist in der Workshop-Gebühr enthalten.
Anmeldung: www.music-academy.com

In 2017/2018, Swiss composer and trombonist Samuel Blaser will begin an extensive series of performances and educational seminars, workshops and master classes together with his trio featuring Marc Ducret on guitar and Peter Bruun on drums highlighting the release of their first album "Fanfare for a New Theater". Designed to educate and develop awareness for contemporary and avant-garde music throughout communities in the United States, Canada and Europe (especially those lacking exposure to fine arts), "Fanfare for a New Theater", is the result of four years of intensive touring across the globe. The repertoire includes original works by Samuel Blaser, Marc Ducret, Peter Bruun and Igor Stravinsky. The goal is through performance, hands on experience and education, to create a wider space for this type of music.
Masterclass
1st part :
Masterclass for specific instruments: trombone & wind instrument, guitar & piano, drums & percussions. Students are welcome to attend any class.
2nd part :
Masterclass with the trio. Practice and experimentation in a group situation. Ear training in a complex sound environment, reactivity, respect and responsibility as a leader. Students could work on two compositions from the current trio repertoire. Charts and music will be sent ahead of me.
My teaching philosophy
My teaching philosophy reflects the core values of an active, wide-range and successful professional career spanning 20 years: hard work combined with musicality, diversity, intelligence and sound technique all help create a complete musician.
In my teaching, I attach great importance to honesty and generosity. My teaching strategies include sharing my experience as a professional musician with students. I had the opportunity to work with great musicians who generously shared their experiences with me, and I strive to pass this along to my students.
To survive in today's world, I strongly believe that a trombone player has to be flexible; it is therefore impossible to perform only one style. I feel fortunate enough to have had the chance to study both classical and jazz music. That is perhaps why I was able to develop an unrestricted personal language.
Solid technique is a must! Many older players had great careers yet had poor technique (i.e. Chet Baker), but over the last decades, the overall level of playing has improved, so it is virtually inconceivable today, to become a professional trombone player without solid technique. Being a virtuoso of the instrument has become a necessity.
From an aesthetic point of view, my highest priority in playing and teaching is expression.
Expressive music is a combination of good sound and clear artistic intention. How can we create tools to "say something" with the trombone that imparts a strong message.
Mastering and crafting sound is an important aspect of developing musicality especially as a trombonist. It is of course not an end in itself because sound is only the medium or the carrier of the musical intention. We must therefore create music with our en?re body, mind and spirit. I also place a great deal of emphasis on developing the art of listening.
My aim is to serve the students by helping them in developing their individual language and always push them to widen their horizon and interests in order to become as versatile as possible.
(Samuel Blaser)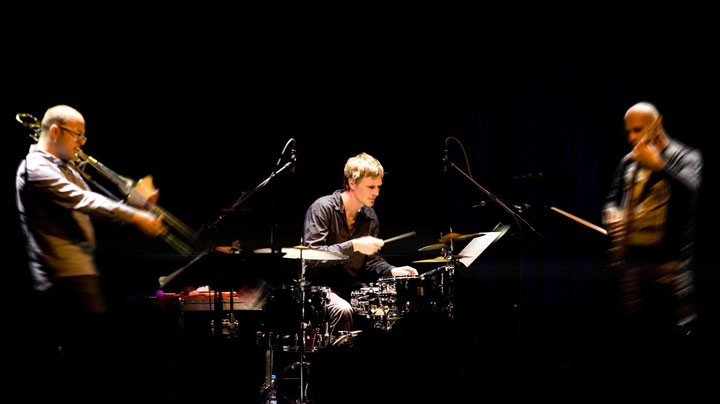 At a time when more musicians are trying to be heard than ever before, rare gems like Samuel Blaser seem paradoxically, to rise above it all. Since his 2007 debut as a leader, 7th Heaven (Between the Lines), Blaser has grown at an almost incomprehensible rate, from a straight-ahead hard bopper in his mid-twenties to an innovative free player and ever-searching composer and bandleader in his early thirties – one whose improvisational strength has received high praise from the media world over.
Born and raised in La Chaux-de-Fonds, Switzerland, Blaser lived in New York City for many years before relocating to Berlin, where he currently resides. He began trombone lessons at the age of 9, and his early interests ranged from Swiss folk music to American R&B and jazz. He entered the local conservatory at 14 and graduated in 2002 after being awarded prizes in both the jazz and classical spheres, including the 2000 Benny Golson Prize.  Participation in the heralded Vienna Art Orchestra and European Radio Big Band eventually led to a Fullbright Scholarship, facilitating studies in the United States at the SUNY Purchase College Conservatory of Music. A year later, Samuel won the J.J. Johnson Prize in 2006.
In his relatively short career, Blaser has worked with Swiss percussion legend Pierre Favre, pianist Hal Galper, drummer John Hollenbeck, saxophonist Michael Blake and François Houle's 5+1 group; he has worked closely with Grammy Award winning producer Robert Sadin and most recently with Billy Mintz.
2015 will see Blaser touring with two trios: one with guitarist Marc Ducret featuring Danish drummer Peter Bruun and the other with French pianist Benoit Delbecq and American drummer Gerry Hemingway. As of November, Blaser is back on the road with his original quartet to promote his new album Spring Rain (Whirlwind Recordings) an homage to Jimmy Giuffre, with Russ Lossing on piano, Drew Gress on bass and drummer Gerald Cleaver.
Guitarist Marc Ducret was born in Paris in 1957. A self-taught musician, he began working in various groups (dance and folk included), and in the studio, before reaching the age of 20. In 1986, he became a member of the first French National Jazz Orchestra. Also in the late '80s, Ducret led his own trio and toured Europe, Africa, and Asia. In 1991, he began working with Tim Berne and went on to play with Berne in Caos Totale, Bloodcount, and Big Satan. Ducret has several solo recordings to his credit, released on Berne's Screwgun label and the Winter & Winter label. In the late '90s, Ducret formed a tentet, Seven Songs, to explore music of the '60s.
Peter Bruun started playing drums at the Rythmic Childrens School in Vesterbro in Copenhagen at the age of three. This became a life-long immersion into drums, music and composition. He was admitted to the Rhythmic Music Conservatory in Copenhagen, at the age of eighteen. After 3 years he discontinued his formal education to travel in India and Brasil and continue his study on his own. Peter is an active member of ILK (Independent Label of København) and a founding member of the band Eggs Laid By Tigers who released their first Album "Under The Mile Off Moon" in 2012. Peter's most resent release is called Unintended Consequences and explores the borders between composition, instant composing and improvisation.